"Kudos to Rummy Passion for Effectually Pulling Off Player Support Services Despite Many Challenges!"
The online skill gaming industry, like that of Online Rummy is eminent for its product and services. Though these elements are crucial for the ecosystem, Rummy Passion considers CRM (Customer Relationship Management) to be a key factor for success in the gaming forte. The site always accentuates more on 'Customer Satisfaction' and 'Technology Advancements' over business accomplishments. Above and beyond, the makers expedite themselves to reach every connected player across the country and provide them with personalized services. They know that to accomplish such goals, it necessitates to look for a ground-breaking approach and understand players' preferences and behaviour.
What it Took to Gratify Rummy Passion Players?
It All Started with a Little Effort!The operative team of Rummy Passion never assumed that they understood players' requirements very well. Instead, for every new requirement, they responded to the voice of every player effectively and gave them appropriate solutions. The site gained detailed insight into what players want and worked accordingly to offer tailored services as a result of which, they were successful in exceeding players' expectations.
The team starts with a smile! Players' query is not taken just as a question raised; service agents put themselves in players' shoes to understand their perception. Let's now discover how the entire cycle works.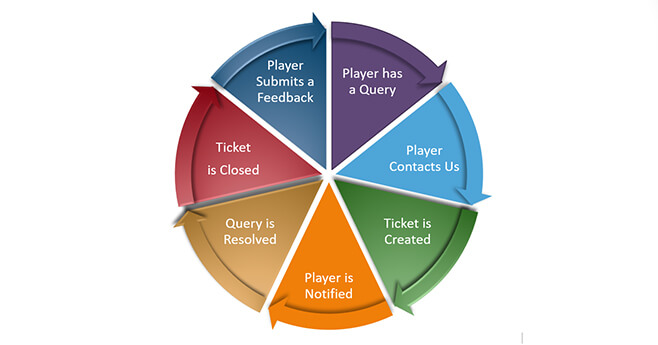 This flowchart simply explains how flawlessly players' queries are resolved at the site. Our dedicated support team ensures every players' request is answered so that they don't have to doubt their decision of being associated with the website. Now let's glance at some significant achievements that led to Rummy Passion's acclamations.
Key Features that Led to Success in the Forte
Player Support professionals are quick to answer players' queries. The average handle time to resolve one query is 2 minutes and 30 seconds. Whereas, the response time over the chat support is much faster, i.e., within 20 seconds.
The support service is not confined to a single language. Instead, players' query is answered in different languages, such as English, Hindi, Telugu, Tamil, Punjabi, and Kannada. The availability of different languages has led to an increase in the volume of players at the site.
Though support working hours are defined from 9:30 am to 6:30 pm, but if a player requests with a query after this time, then all pending queries are answered the following day. What's more? We extended our working days from 5 to 7 days, just to make sure players don't face any problem regarding the game.
Recently, the site introduced a state-of-the-art automated calling system that helps in automating calls. Also, our customer handling experience and efficiency have tremendously improved, i.e., we have employed more skilled resources to handle players' queries.
To improve our services, we ask players to rate our chat experience so that we get an insight that in which area we need to improve ourselves. For this, a player will have to choose from the 'Happiness Rating' options - 'Happy', 'Okay', and 'Sad.' Further, based on players' feedback, we provide constant training to our professionals/agents so that they can do better to scale their services.
The site has also incorporated an escalation matrix in which players are given an option to escalate issues to a higher level if they are not satisfied with the services.
The Next Move
The entire team of customer support is engaged in planning to go beyond the call of duty to assist players effortlessly. For this, planning to extend the support team are in full swing, so that players' queries are answered in no time.
The FCR (First Case Resolution) strategy that we are going to integrate, will help us monitor whether players' query was fixed at the very first attempt. If not, we will ensure they don't come again with the same query within 72 hours. If they do, we will address the same on priority and at a higher level.
Working on Customer Satisfaction rating system, i.e., to bring more options (Rating from 1 to 5) for players so that they can give us more precise rating and help us improve.
To those who raise queries through web page form, we are in plan to introduce a turnaround time of 1 minute so that their queries are answered quickly and on time.
Innovation, Hard Work, & Commitment is What We Emphasize On
The success story of a business starts by defining how services are delivered to the outside world. We at Rummy Passion have been continually striving and are committed to providing world-class Support Services that fulfil players expectations. After all, players are our asset, and their satisfaction is our utmost priority. Our mission is not only confined to offer end-to-end gaming services to our players but to enhance their gaming experience as well. If you want to share your feedback with us, feel free to reach out.
We Would Love to Hear from You!