Rummy Passion Welcome Bonus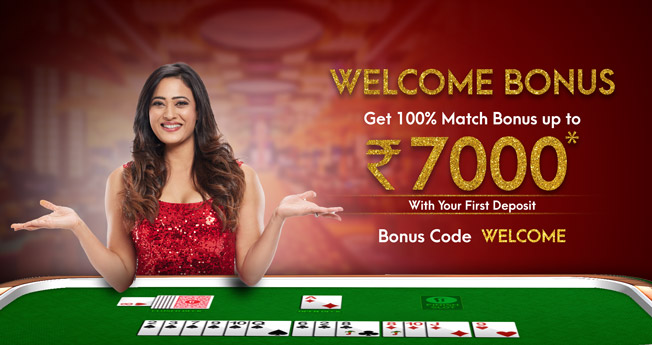 Play cash rummy games at Rummy Passion with the best Rummy Bonus online! Win lakhs of rupees in real cash everyday with our mega offers. To start, get up to Rs 7,000 as a Welcome Rummy Bonus when you make your first deposit. This is the biggest welcome bonus you can get. Simply use the Rummy Bonus code "WELCOME" to avail a 100% match bonus equal to the amount of your first deposit up to Rs 7,000. This doubles your play money!
Enjoy classic rummy games for longer and get more chances to win.
How to Activate Your Welcome Rummy Bonus?
Don't know how to avail the Welcome Bonus? Simply follow the 3-step procedure below, get a 100% Rummy Bonus and enjoy playing Rummy online.
STEP 1: Login to your Rummy Passion account and click on the 'Add Cash' button. A window will popup where you can opt to add either Rs 7,000, Rs 1,000 or any other amount of your choice.
STEP 2: Click on the 'Add Cash' button and you'll be redirected to a new window confirming your chosen amount and the Rummy Bonus code 'WELCOME'
STEP 3: Click on Continue and proceed to the payment screen. Choose your preferred payment method and click on Pay Now.
You'll be redirected to a secured payment gateway, where you will make the payment and instantly the bonus amount will be reflected in your account. You can check your bonus by visiting the "Current Bonus Status" section.
But wait! It gets bigger and better. And as you play, you get enrolled in the Passion Rewards Club and can Earn Cash prizes, match bonuses and free roll tourney entries. On your second deposit, there is another bonus "TOPUP" up to Rs 3,000 waiting when you make your second deposit. Experience the thrill of Online Rummy at Rummy Passion.
Your winnings don't stop at cash bonuses. Participate in our Freeroll Rummy Tournament every day and win as much as Rs 9000 in the prize pool money!
Bonus Terms and Conditions:
Users can claim the Welcome Bonus only once and only at the time of making their first deposit.
This Rummy Bonus is for genuine new accounts only.
We exclude and take action against duplicate accounts, collusion and other unfair gaming practices.
The Bonus can only be utilised to play cash games and cannot be directly withdrawn to a players account.
Other Rummy Passion Bonus T&C's apply.
FAQ:
What is the first deposit bonus in rummy?
You can receive a 100% match rummy bonus, up to Rs 7,000, on your first deposit by using the rummy bonus code "WELCOME."
How do I use my first deposit bonus?
You can use your first deposit bonus in online rummy gameplay by participating in cash rummy tournaments & can win real cash.
What is the biggest rummy bonus?
You can avail the biggest welcome rummy bonus up to Rs.7000 on Rummy Passion.
How many times can I get a Rummy Bonus?
You can get a welcome rummy bonus up to Rs.7000 on 1st deposit & up to Rs.3000 on your 2nd deposit on Rummy Passion.
So, what are you waiting for? Deposit now and claim your welcome bonus package!