RummyPassion.com has selected British model and Bollywood film actress, Amy Jackson to be its Official Brand Ambassador. Rummy Passion is India's most loved and fastest growing online rummy portal. Amy Jackson, the young, dynamic and multifaceted celebrity was recently signed up because she resonates the ethos of the vibrant site with her vivacious personality.
Rummy is more than just a card game. It amuses players and teaches them several life skills while providing wholesome entertainment. It is actually a robust unifier that knows no boundaries and does not discriminate - be it region, community or language. It is like a whiff of cool breeze that effortlessly transcends all borders. It brings players from diverse backgrounds together on common tables – which are available in 2 and up to 6 player configurations on the website. On this platform, game enthusiasts comfortably communicate in a universally understood language while indulging in their passion.
Amy Jackson was signed up as brand ambassador by Rummy Passion for more than one reason. Just like the online platform, Ms. Jackson transcends borders and differences, and has a universal appeal. She has acted not only in Bollywood movies, but also in Kollywood and Tollywood ones. This is akin to Rummy Passion's customer care that caters to players from all over the nation barring a few states and offers services in multiple languages like English, Tamil, Telugu, Hindi, Punjabi, and Kannada.
Amy herself is an avid player who likes to unwind at the tables after hectic shoots by indulging in online rummy game play at this site. She likes to play on her smartphone when she is on the move and is all praises for Rummy Passion because she loves the thrill of the games offered by the website. She is a regular at the freeroll tournaments and has even won several times. The cool Ms. Jackson correctly perceives that winning and losing are part of the game.She loves the awesome entertainment and fun quotient associated with the amazing card game.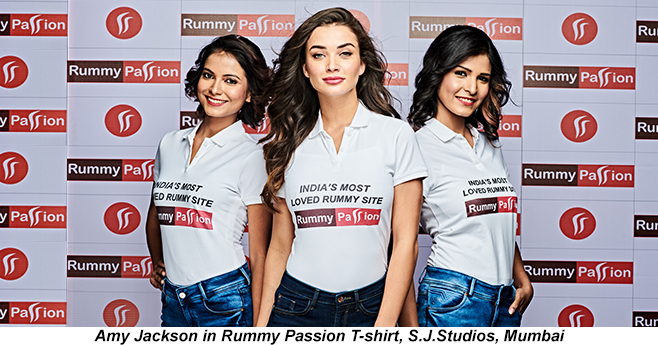 Despite being a start-up, Rummy Passion as a brand has been rapidly climbing up the popularity charts, clocking an astounding growth rate of 100% in every quarter, thanks to its highly user-friendly interface and customer-oriented services. Similarly, Amy is a brand in herself who has been garnering tremendous accolades and popularity right since her very first Indian movie 'Madarasipattam', in spite of being new in the arena, thanks to her passion and dedication for her work.The two brands fit in like pieces of a jig-saw puzzle as she exudes elegance and the rummy website believes in constant innovations and paying heed to the voice of its customers.
It is actually one brand standing for another; with both being young, elegant, sophisticated, with universal appeal and offering services par excellence. Besides, the celebrity herself loves to indulge in the game of online rummy at India's most loved rummy site. As such, Amy Jackson is the perfect face for Rummy Passion and there's no arguing that!