"Card Tokenisation enhances card security for the customer by reducing the surface area of risk," said Ishan Sharma, VP, Business Development at Juspay.
Card Tokenisation: The Mandate
According to the new Reserve Bank of India (RBI) guidelines, online retailers and payment gateways are no longer allowed to store customers' card information on their platforms. Instead, to ensure a secure online transaction, they have been mandated to replace the confidential details with 'Äėtokens'Äô.
Though major banks such as SBI, HDFC, and ICICI are ready for the transition, many merchants have requested more time to prepare their backend for the new system. In light of this, the RBI has pushed back the implementation date of card-on-file-Tokenisation (CoFT) by six months to June 30th, 2022, from January 1st, 2022.
However, Rummy Passion which is one of the most popular online Rummy platforms is all set to abide by the new regulations.
How Does Card Tokenisation Work?
Nothing changes for the end-users. They just need to enter card details for proceeding with Tokenisation while making transactions at the payment page of the shopping portal. Merchants need to forward the token to their respective issuer banks. The token is produced and sent back to the merchant, which they save for the end customer. As a customer, you don't have to recall the token as the experience will not change while making digital payments.
How will Tokenisation Benefit Users?
Customers require safety and security in a variety of settings where they make purchases. In this day and age, where digital fraud threatens the entire economy, building trust and connection with clients begins with keeping their personal information secure.
This innovation is critical to how business transactions are carried out today. Thereby, it is directed to eliminate any probable possibility of data theft.
From secure Point of Sale (POS) transactions to payments on the go, from conventional e-commerce to another age of in-app payments, Tokenisation makes paying with the gadgets simpler and more secure than ever.
How Rummy Passion is Prepared for Card Tokenisation
Many retail merchants have demanded a deadline extension to prepare their backend for card Tokenisation. Considering their demand, the RBI has extended mandatory card Tokenisation till 30th June 2022. However, at Rummy Passion, card Tokenisation is already being practised.
From April 2022, we have started the process of tokenising all cards for new players. As for the existing players, their saved cards will also be tokenised post taking their consent.
As a merchant site and app, we will generate a token for a player's card that will go to the payment gateway. The payment gateway will forward this token to the issuer bank. The issuer bank identifies the generated token of the card owned by the player. Therefore, the card details remain safe between the player and the issuer bank and without being disclosed to anyone.
Earlier, the merchants didn't have the right to store the card information, and now with the Tokenisation being implemented, even the gateways cannot store the card details. This secures the card credentials of players and prevents chances of fraudulent activities.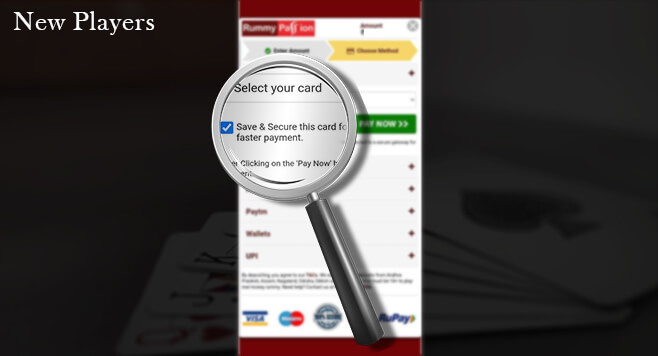 While adding money to their Rummy Passion account, new players can opt for this facility by selecting, 'ÄúSave & secure this card for faster payment'ÄĚ.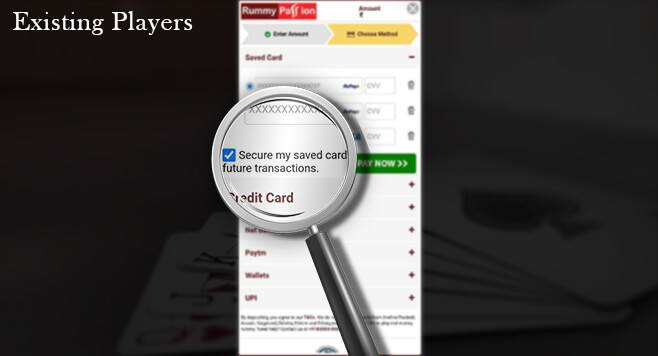 Existing players can choose to avail Tokenisation facility by selecting, 'ÄúSecure my saved card for future transactions'ÄĚ.
With card Tokenisation being implemented, if a player saves their card details, the payment gateway will now have only tokens for future transactions.
Now, these saved tokens can be used to make hassle-free and secure transactions to play and win rummy games at Rummy Passion. The ease of non-suspicious and smooth transactions at India's Most Loved Rummy App is sure to get you hooked to the game.
Conclusion
Rummy Passion has abided by the RBI Tokenisation paradigms before the due date. From now onwards, a Tokenisation facility is enabled for existing and new players.
An additional robust layer of security is added for our players with this feature. This allows players the freedom to purely focus on maximising their winnings at game tables.