Play Cash Rummy and Get Rs 700 Cash Rummy Bonus!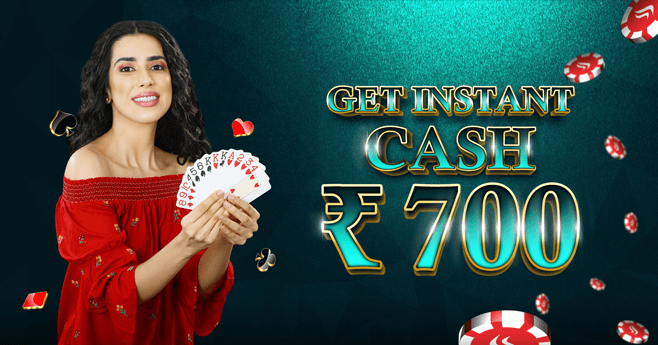 Get an Instant Cash Rummy Bonus of Rs 700 at Rummy Passion. Here's presenting the biggest Cash Rummy Bonus for new players who are looking for some enticing offers. Play cash rummy games with this ₹ 700 DAILY LOGIN REWARD STREAK and have a whale of a time along with big WINS. Login 6 days in a row and enjoy No Deposit Bonus every day. What are you waiting for? JOIN NOW >>
What is Real Money Gaming (RMG)? It's a term that defines online gaming where players deposit real money via Net Banking, Credit Cards, Wallets, or Debit Cards to play rummy games for cash, using player's game knowledge and skill.
Steer a Glance at the offer details:
Day

Challenge 1

Challenge 2

Day 1
Login & Enrol in the Streak
Get ₹5 Cash Bonus
Play 40 Cash Games & Get Extra ₹100 Cash Bonus
Day 2
Login & Get
₹10 Cash Bonus
Win 10 Cash Game & Get EXTRA ₹100 Cash Bonus
Day 3
Login & Get
₹10 Cash Bonus
Play 50 Cash Game & Get EXTRA ₹100 Cash Bonus
Day 4
Login & Get
₹10 Cash Bonus
Win 20 Cash Games & Get EXTRA ₹100 Cash Bonus
Day 5
Login & Get
₹10 Cash Bonus
Play 60 Cash Games & Get EXTRA ₹120 Cash Bonus
Day 6
Login & Get
₹10 Cash Bonus
Win 30 Cash Games & Get EXTRA ₹125 Cash Bonus
NOTE - Complete Daily Challenges for 6 days to Win Rs 700 Cash Bonus.
Email & Mobile Verification
Visit Rummy Passion for cash rummy.
Fill the registration form on the right-hand side, and get yourself registered >> You get a registration successful message.
Check your registered email inbox for an email from Rummy Passion with subject - "Welcome to RummyPassion".
Click that email & you will see a link to verify your email address.
Click the link to be redirected to Rummy Passion "Email Verified" page.
The next step is to verify your mobile number.
Login to your account >> click on "My Account" on top right of the page >> Profile tab >> Click on "Personal Information" >> Fill your registered mobile number >> Save the information.
Your mobile number will have two signs next to it - "Verify" in red colour & the other is "Change" >> Click on "Verify" & you will get a 4-digit OTP (One Time Password) on your registered mobile number.
Enter the OTP on Rummy Passion's number verification page >> click on "Submit".
The verification process for your mobile number is complete.
Verify Now

Complete KYC
Go a step further, and furnish your KYC (Know Your Customer) details.
Go to "My Account" on top right of the page >> Profile >> Click on "Personal Information" >> Fill in the details - full name, address, city, state, Pin code, ID proof, etc.
Add a scanned copy of your valid ID Proof & Address Proof. Else you can click clear pictures of your KYC documents using your smartphone, and upload them.
For ID Proof, you have to submit your PAN card.
For address proof, Aadhar Card is the most preferred address proof. However, in its absence, you can also submit Passport / Voter ID Card / Driving License or any other residence-proof issued by the government.
Click on the "Submit" button.
Upon approval of your KYC information by the site, your KYC gets verified.
Upload KYC

NOTE - Remember to add Rummy Passion email id in your safe sender list to make sure that all emails from Rummy Passion are delivered right to your inbox. There are multiple ways to do this:
Click on the drop menu on the right side of the reply button where there is an option to "Add Rummy Passion to Contacts list".
Open your contacts and manually add support@rummypassionmails.com as your contact.
The easiest way is to reply to the email. It will save Rummy Passion email address in your 'Contacts' list.
Cash Rummy Bonus Terms of Use
You will not receive the cash rummy bonus, if you break the Streak.
Cash Rummy Bonus will be credited instantly to your account.
Streak ends after 6 days from the starting date of the Streak Bonus.
Users will get the Instant Cash Rummy Bonus only once.
The bonus is applicable for genuine 'New Accounts' only.
We exclude and take action against duplicate accounts, collusion and other unfair gaming practices.
Multiple registrations from the same IP and generally "anything" that comes in the way of fair gameplay of our valuable players will be penalized.
Other Rummy Passion Bonus T&C's apply.
Join India's Best Rummy App and experience the best of rummy games, big wins, along with exclusive player services.