Rummy Passion, India's Most Loved Rummy Site is jam-packed with millions of fascinating gamers. Who you compete with, may remain anonymous to you, but you can certainly figure out their gaming style. Not all follow the same flamboyance, so if you want to overpower your opponents, it's imperative to understand their behavioural characteristics. Listed below are the types of rummy gamers that you could possibly come across at the online tables of Rummy Passion.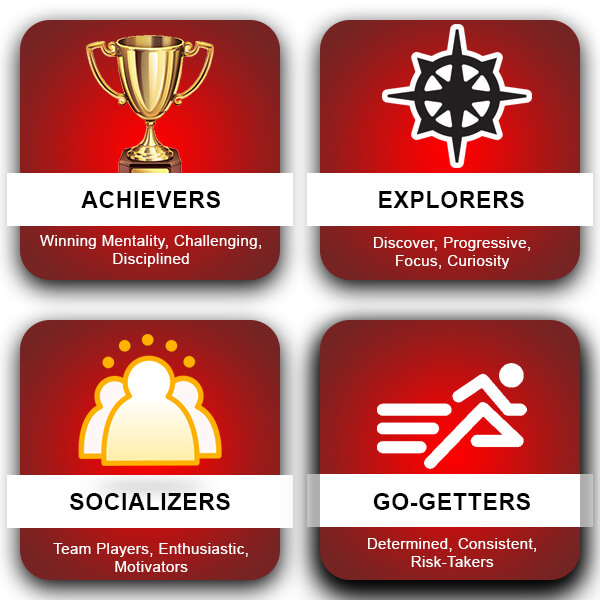 Types of Rummy Players & their Traits
Achievers

The most defining characteristic of a rummy gamer is arguably the aptitude to either win or lose, no matter what challenge comes their way. Customarily, players indulge in the game with a mindset of enjoying, but the achievers' mind and heart always hungers for victory! Having been disciplined for long in the game, they feel the urge more intensely than other players. That's not it. They thirst for new challenges to improve their gaming techniques, yet keep their momentum upheld.

How to Identify Achievers?

You can find this group of players mostly at Cash Tournament tables, as the competition at these tables is high.

Explorers

Relative to achievers who follow a results-driven approach, explorers always prefer to progress slowly but surely. Most of them being new to the game use curiosity as their secret weapon. The curiosity is to learn the game and show their potential to their competitors. They arrive at the tables with a strong desire to pick up new strategies and discover every secret that brings out-of-the-box results. For them, failure is just a term, as their motive is to learn and then progress. Even if they stumble at times, they play with a relaxed mind and handle the challenge quite boldly.

How to Identify Explorers?

Players of this category can be seen mostly on the Free tables, and if not, then surely on low-stake cash tables, as their initial step is to learn rather than clutch cash rewards.

Socializers

Explorers and Achievers mostly play rummy for the sake of their own desire, but socializers love to indulge themselves in a large group of players. From the earliest days when the game was played in social gatherings to today's booming online multiplayer gaming market, there's nothing that has changed for this category of players. Time and again, they have proved that rummy is not supposed to be a solitary affair. Not only this, they believe in the mantra - 'Sharing is Caring.' At Rummy Passion, the maximum percentage of this category leverage 'Refer a Friend' program. Being motivators, their purpose not only lies in grabbing the referral bonus but also to share their passion with others of the same interest.

How to Identify Socializers?

You will find these types of players mostly on 6-player table. They love to play in a group rather than with single players, which is quite justifiable.

Go-Getters

The go-getters know how to consistently conquest other players with their cards and can prove to be a disruptive force at times. It's quite easy to figure out such players, as not only their moves are quick but also, they try every strategy in the game to outfox their opponents. Not to mention, they have only one goal in their mind - 'To Succeed at Any Cost', no matter with whom they have to brawl with in order to reach their final destination. Not only this, if needed, they may also bluff their opponents to win the game. Now, not all can master this art. Only the ones who are consistent, determined, and ready to take calculated risks become the champions of rummy. They comprehend the fact that failure is a foreseeable part of success, so for them, it's nothing but a valuable lesson learnt.

How to Identify Go-Getters?

Players of these categories can be mostly seen on VIP Marked tables, Leaderboard, or any fierce competition that may take place at Rummy Passion.
In a Nutshell
While playing rummy, it's rare to come across a player who may acquire a single trait. Most of the rummy players will display all types of behavioural activities, to a greater or lesser extent. What's important here is to recognize these types of players and use gaming pattern to defeat them. So, next time when you try your hands on the game tables, do notice their gaming behaviour and profile the gaming pattern to win over them.
See You at the Tables!